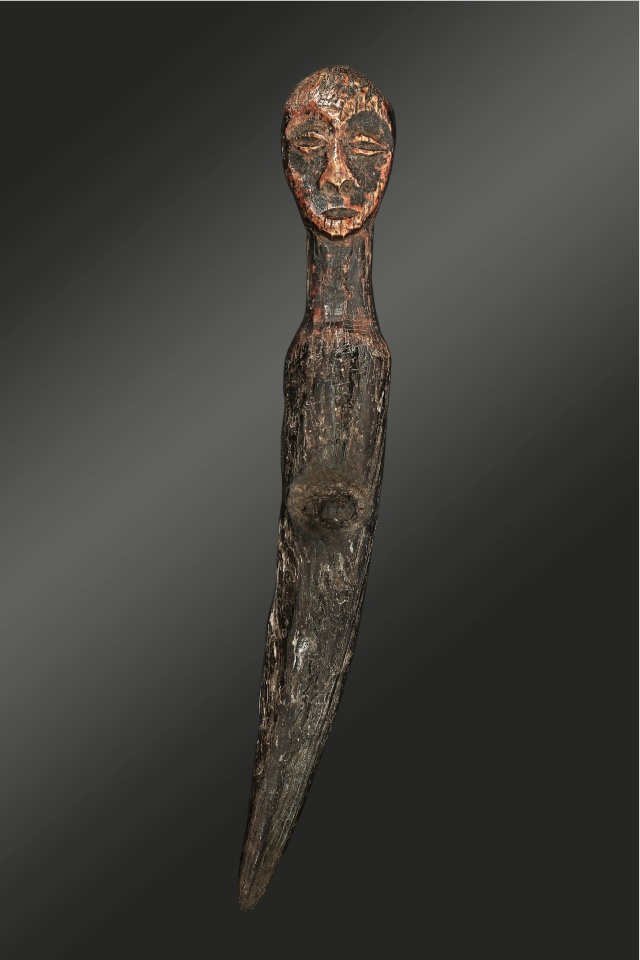 Lega people, Mokolo (Mukulu) figure, Shabunda Région, Kivu, Congo
Ivoire, patine d'usage, substance magique
H. cm. 29/11,43 inc.
XIXème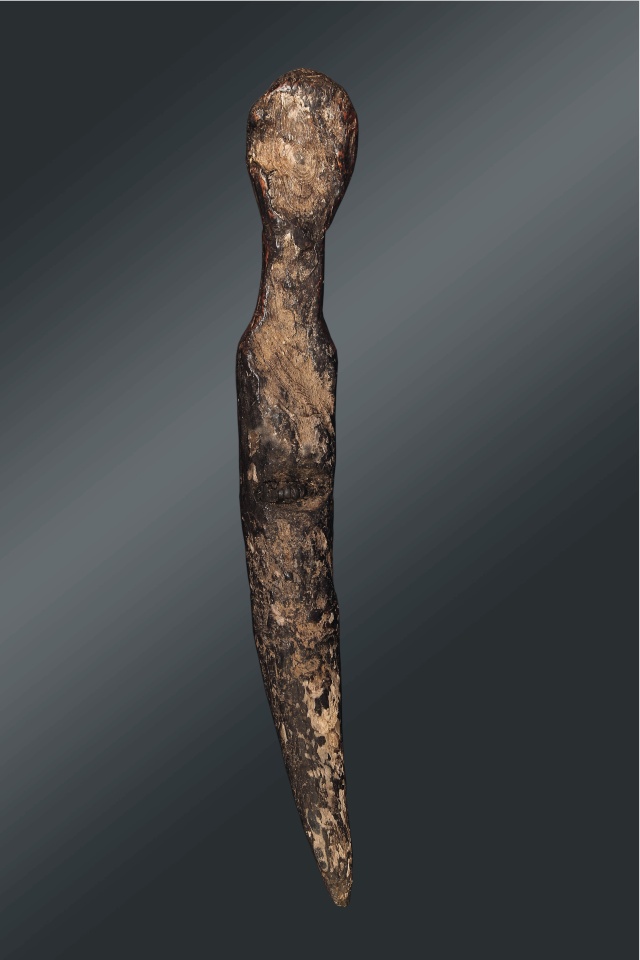 Provenance
-Mwami Ya Kindi Ngengele coll., Tusisi, Geo code: latit. -3,0833333 / longit. 27,2, Shabunda zone, Sud Kivu, Congo
-Coll. privée, Italie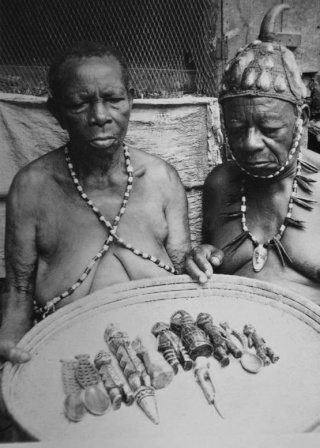 Mwami Ya Kindi Ngengele et sa KanyamwaPublications
Marc Leo Felix  "
White gold, black hands. Ivory sculpture in Congo"
Vol VI, Edited by Marc Leo Felix, Brussels, Belgium, 2013, pag. 38, fig. A114, color.
Cet objet a appartenu au vieux Mwami Ya Kindi Ngengele de Tusisi et son opinion il est qu'il est le plus ancien Mokolo de la zone de Shabunda et il précède l'arrivée des Belges.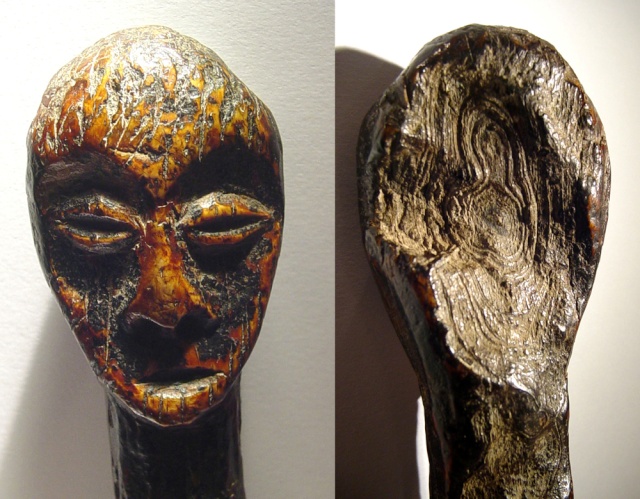 Cet objet nommé en effet, Mokolo Lwa Kindi, était enfoncé dans le sol où ils se déroulaient importantes cérémonies et il servait pour éloigner les esprits méchants et les sorciers.
Sur le corps du Mokolo il est présent la substance magique.
Le Mokolo du Musée Tervuren, avec la substance magique (cm 19), numéro d'inventaire EO.1974.21.18
Courtesy, Musée Royal de l'Afrique Centrale, Tervuren, Belgique.
Une autre interprétation de cet objet:
Pegs made of elephant bone represent the elephant's ribs, and they also remind the viewer of the multiple meanings that Bwami assigns to the elephant. The image of the dead elephant, decomposed so that its ribs are expose, is evoked in the saying  "Where elephant rots, there are many ribs".
The saying , combined with the pegs, refers to the material possessions of a high-level Bwami member that are distributed at death. ( Biebuyck, 1986, 191)
Bibliography
Delhaize, Cdt, 1909.
Les Warega (Congo belge)
, A. Dewit, Bruxelles.
Biebuyck, Daniel P.
- 1953a. «
Maternal uncles and Sororal Nephews among the Lega"
, in Report on the Second Joint Conference on Research in the Social Science in East and Central Africa, Makerere College, Kampala, pp. 122-133.
- 1953b.
« Répartition et droits du pangolin chez les Balega »
, Zaïre 7, pp.899-934.
- 1973.
Lega Culture. Art, initiation and Moral Philosophy among a Central African People
, University of of California Press, Berkeley and Los Angeles.
- 1982a.
"Lega Dress as Cultural Artefact"
, African Arts, n°15, pp. 59-65, 92.
- 1982b.
"Plurifrontal figurines in Lega Art in Zaire"
, in The Shape of the Past. Studies in Giogio Buccellati & Charles Speroni (Ed.), Studies in Honor of Franklin D. Murphy, University of California, Los Angeles.
- 1983.
"Lega Spoons,
" in H. Burssens (ed.), Liber memorialis for Professor Vandenhoute, 1913-1978, Ghent, Belgium, pp. 51-66.
- 1986.
The Art of Zaïre
, vol II : Eastern Zaire, University of California Press, Berkeley, Los Angeles, Londres.
- 1994.
La sculpture des Lega
, Galerie Hélène Leloup, Paris, New York.
- 2002.
Lega. Ethique et beauté au coeur de l'Afrique
, KBC Banque & Assurance, Snoeck-Ducaju & Zoon, Gand.
Botne, Robert, 1994.
A Lega and English Dictionnary
, Rüdiger Köppe Verlag, Cologne.
Cameron, Elizabeth L., 2001.
Art of the Lega
, Fowler Museum of Cultural History, Los Angeles.
Defour, Georges, 1981
. La corde de la sagesse lega
, Editions Bandari, Bukavu, RDC.
Georges, Emile-Alexandre, 2005.
Les Lega et leur Art. Sur les traces d'un rêveur égaré au Congoland
, Musée royal de l'Afrique centrale, Tervuren.
Cameron, Elizabeth L. 2013, ,
Secret d'ivoire. L'art des Lega
, Muséed Quai Branly, Paris
Courtesy Mimmo Paladino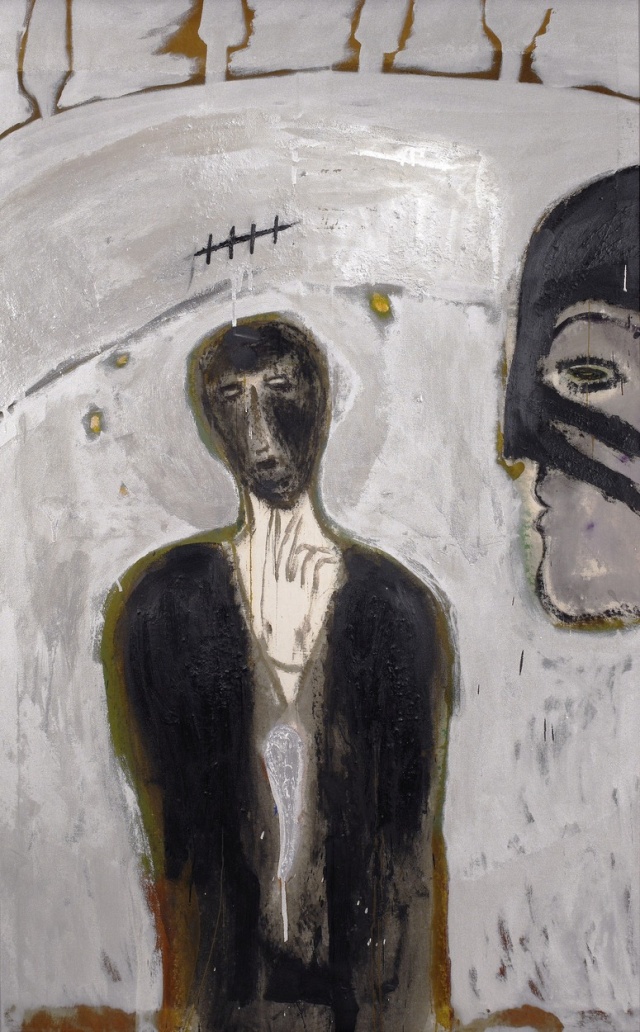 Lega people, Mokolo (Mukulu) figure, Shabunda Région, Kivu, Congo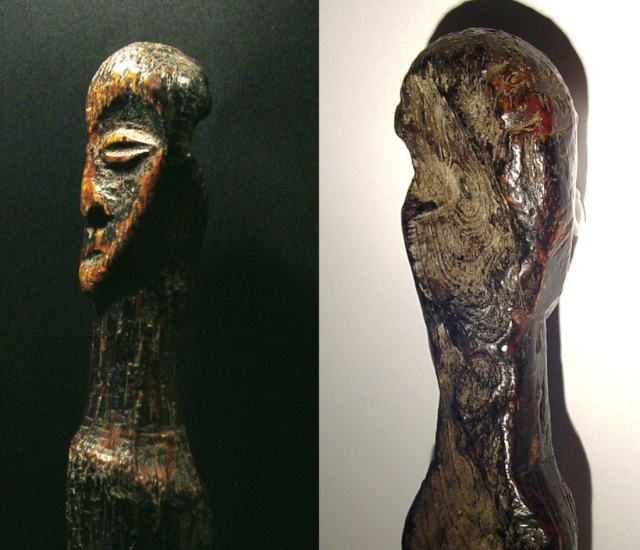 Avorio, patina d'uso, sostanza magica
H. cm.29
XIX sec.
Coll. privata, ItaliaProvenienzaMwami Ya Kindi  Ngengele coll., Tusisi (Geo code: latit. -3,0833333  / longit. 27,2 ),  Shabunda area,  Sud Kivu, Congo

Pubblicazioni

Marc Leo Felix  " White gold, black hands. Ivory sculpture in Congo"
Vol VI, Edited by Marc Leo Felix, Brussels, Belgium, 2013, pag. 38, fig. A114, color
Questo oggetto è appartenuto al vecchio Mwami Ya Kindi Ngengele di Tusisi e la sua opinione è che è il più antico Mokolo dell'area di Shabunda e precede l'arrivo dei belgi.

Questo oggetto chiamato infatti, Mokolo Lwa Kindi, era infisso nel suolo dove si svolgevano importanti  cerimonie e serviva per allontanare gli spiriti maligni ed i  sorciers.

Sul corpo della Mokolo è presente la sostanza magica. Un altro esemplare con la sostanza magica (cm19) si trova al Museo Tervuren in Belgio, numero d'inventario EO.1974.21.18.Altra interpretazione relativa a questo oggetto:

I pioli di osso d'elefante rappresentano le costole dell'elefante stesso, e sono le vestigia dei molteplici significati che di fatto il Bwami assegna a questo animale. L'immagine dell'elefante morto, decomposto, con sue costole visibili, viene evocato nel detto "Dove marcisce l'elefante, lì ci sono molte costole".
Il detto, in combinazione con i pioli, si riferisce al possesso dei beni materiali di un membro di alto livello quale il Bwami, beni che sono poi distribuiti al momento della sua morte. (Biebuyck 1986, 191)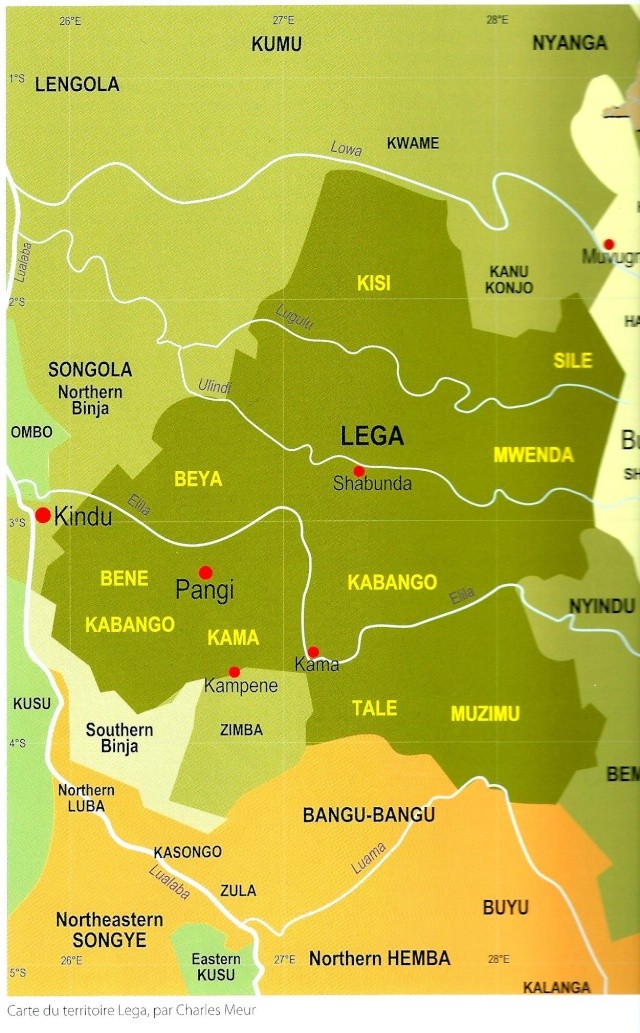 ---
Permessi di questa sezione del forum:
Non puoi
rispondere agli argomenti in questo forum